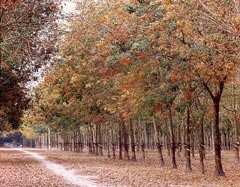 View of a rubber plantation in the central province of Gia Lai. (Photo: T.C.)
Thanks to cutting-edge technologies in planting trees and producing latex, Viet Nam's rubber latex productivity, by now, remains the highest in comparison with nearby countries.
The Viet Nam General Rubber Company (Geruco) estimated that its 6 affiliated companies and 35 rubber plantations will enjoy the average output of 2 tons of latex per hectare this year, while the average output of the whole sector will be 1.7 tons a hectare.
Currently leading is the Tay Ninh Rubber Company with the productivity of 2.3 tons of rubber latex per hectare, followed by Loc Ninh Rubber Company with 2.1 tons.
Other enterprises like Binh Long, Phuoc Hoa, Tan Bien and Dong Phu have got 2 tons of rubber latex per hectare this year.
In addition, Geruco will make a US$30 million investment in rubber plantations in Laos and implement a large-scale project of growing nearly 180,000 hectares of rubber trees at 3 provinces in Cambodia.