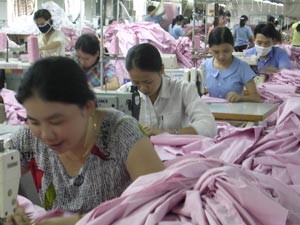 Vietnamese textile and garment industry has a chance to increase profit after the US approved PNTR for Viet Nam
Relations between Viet Nam and the US are coming to the strategic level, said former US Ambassador to Viet Nam Raymond Burghardt, welcoming the US Congress's approval of the bill granting "Permanent Normal Trade Relations" (PNTR) status with Viet Nam.
In an interview with Lao Dong newspaper, he said that PNTR will be the last brick to help complete the normalisation of relations between the US and Viet Nam, thus forwarding a new and brighter future.
Leaders of the two countries have held dialogues on various regional issues. The two sides are ready to further develop bilateral relations, he said.
Burghardt said he believed that there would be a new wave of investment from US hi-tech companies such as Intel into Viet Nam . Intel's decision to invest more in Viet Nam is of great significance as it sends a signal that Viet Nam is a safe and good destination for foreign investors.
He expressed his optimism that Viet Nam would receive more Aerican companies investing and doing business in the country.