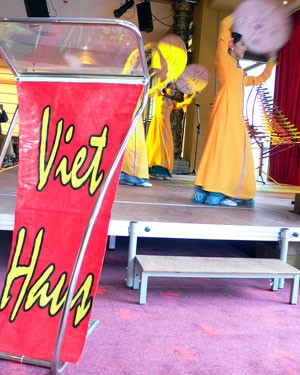 VietHaus-Vietnamese trade promotion center not only for Germany but also for the whole of Europe (Photo: Fred Zimmermann)

VietHaus isn't a German word. It isn't a Vietnamese word either. It is a combination of both. Literally, 'haus' means 'house,' but here it means center.
The center promotes trade, investment, culture, and tourism in Berlin, not  only for Germany, but also for the whole of Europe. The idea is to put Viet Nam on the European investment map.
Mr. Nguyen Xuan Hung, the brains behind the enterprise, is proud to talk about his idea and about the slogan he coined: "Welcome to the VietHaus – Viet Nam's soul (spirit) in the heart of Berlin". Mr. Hung stressed that the center is a private enterprise with two major share holders: SASCO and HMSKY GmbH. The Vietnamese government has no financial share in it, though VietHaus does get official support from Ha Noi and from the Vietnamese embassy in Berlin.
VietHaus will provide a good example to other overseas projects, said Mrs. Vu Thu Hang, head of Viet Nam's Trade and Industry Organization. "With Viet Nam joining the World Trade Organization in 2006, things have changed. We must bring our soul [business] to the world," referring to the VietHaus slogan.
"We have to bring Viet Nam to Germany," said Vietnamese Ambassador Tran Duc Mau. He praised the use of direct private investment as opposed to the use of state. "This is a project which is going to show the way in future, driven by market interests."
There will be a close co-operation between the embassy and VietHaus. Germany's minister for Foreign Affairs expressed his government's interest in the idea of a "German Haus" in Ho Chi Minh City when he met his counterpart in Viet Nam recently.