Vietnam yesterday signed an agreement to export rice to Guinea Bissau following three days of talks with central and west African nations.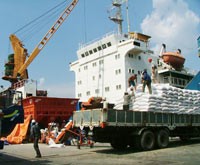 Rice is loaded for export at Sai Gon port, HCMC. (Photo: Thanh Nien)
The African countries also expressed interest at the meetings in buying seafood and machinery to process farm produce from Vietnam.
They proposed barter rather than cash payment, offering cotton, forest produce, and cashew in exchange for Vietnamese rice.
The meetings helped Vietnamese enterprises meet their African importers face to face after trading through intermediaries until now.
Rice exporters in the Mekong Delta province of An Giang agreed to visit central and west African countries to find out their import needs.