After resuming seafood exports to Russia in May 2009, Vietnamese businesses saw turnover of US$80 million by year-end while earnings are forecast at $120 million in 2010, said the Management Board for Seafood Exports to Russia at a meeting in Ho Chi Minh City on January 5.
Russia closed the door to Vietnamese seafood imports in 2008 over issues related to the quality of products.
Exports resumed last year after Russia approved Vietnam's efforts to improve product health and safety, said Duong Ngoc Minh, head of the Management Board which was established in late 2008 to work toward recommencing trade with Russia.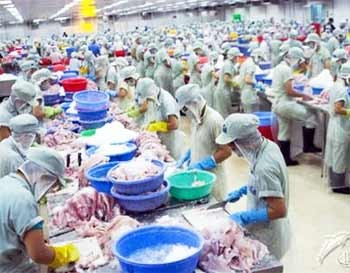 Tra fish is processed for export at Hung Vuong JSC in Tien Giang Province (Photo: Tin nhanh Viet Nam)
Efforts paid off with Russia agreeing to import seafood from 10 Vietnamese businesses.
Last year, tra fish took the lead in seafood items exported to Russia, with more than 39,000 tons shipped for about $64 million from May-December, the Association of Seafood Exporters and Producers of Vietnam said at the meeting.
Russian importers refused no seafood shipments last year, Mr. Minh said, adding that earnings from tra fish exports to Russia are likely to reach around $100 million in 2010, or 80 percent of total expected seafood turnover.
Russia is the only market where Vietnam tra fish prices increased by 5-7 percent last year, while prices declined by 10-15 percent in other markets, he said.
Transportation cost for seafood exports to Russia, meanwhile, have reduced by 5-10 percent, which helps encourage exporters to boost exports to this market, he added.
However, many Vietnamese exports who meet Russia's health and safety requirements for seafood have yet to be listed as suppliers of tra fish to Russia, the Board said.
This is because market shares for tra in the vast Russian market have yet to be expanded, the Board explained.
Many attending the meeting said they highly appreciated the efforts of the Board in reviving seafood exports to Russia. If such a board is set up for other markets like Ukraine, Gruzia and Uzerberkistan, the volume of tra fish could equal that exported to Russia, they said.
Thanks to coordination efforts by the Board, exporters can now cooperate with each other in delivery, pricing, and quality of seafood, said Deputy Minister of Agriculture and Rural Development, Luong Le Phuong.
This model can also be applied and customized for other markets, he said.
Mr. Phuong added that the ministry plays a role in tackling impediments to the country's seafood exports.