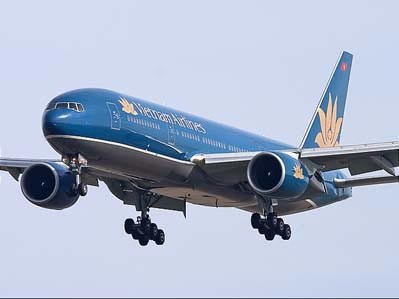 A Vietnam Airlines flight
Vietnam Airlines said strong passenger growth drove its revenues up 19.4% in the first quarter of 2006 from a year earlier to VND4.3 trillion (more than US$270 million).
The national carrier reported revenues of VND3.6 trillion in the first three months of 2005.
A Vietnam Airlines statement said the corporation carried 1.74 million passengers in the first quarter of this year, rising by 12.5% over last year's January-March period. It transported almost 25,000 tons of cargo over the past three months.
The statement added that the airline will keep buying and leasing more planes for its fleet expansion.
In early March 2006, Vietnam Airlines Chairman Nguyen Sy Hung told foreign investors the carrier would need US$1.2 billion to expand its fleet to 56 aircraft by 2010. At present Vietnam Airlines flies 39 aircraft. Some of the funds was expected to come from international bond issues. The new planes will include Boeing and Airbus aircrafts for long distances.