Hong Kong and Vietnam on Tuesday signed an agreement for the avoidance of double taxation and the prevention of fiscal evasion on tax and income.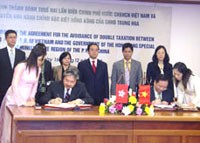 At the signing ceremony on Tuesday. (Photo: Chinhphu.vn)
The agreement was signed by the Hong Kong Special Administrative Region (HKSAR) government Financial Secretary John Tsang and Vietnam Vice Minister of Finance Do Hoang Anh Tuan in Ha Noi.
The pact is expected to boost trade and investment cooperation and create a stable tax environment. From that the point, Hong Kong investors and Vietnam will develop and expand business and investment activities.
The Hong Kong-Vietnam Chamber of Commerce Chairman Jonathan Choi said trade and investment between Vietnam and Hong Kong had been booming in recent years.
Bilateral trade turnover stood at more than UD$2 billion in 2007, a year-on-year increase of 43.7 percent. In the first nine months of this year, the figure reached US$2.72 billion, up 25 percent on the same period last year. Two-way trade is expected to reach US$3.5-$3.6 billion for the whole year, Choi said.
At present, Hong Kong businesses have invested in more than 400 projects in Vietnam and pledged more than $5 billion in investment in Vietnam. Hong Kong is Vietnam's fifth largest investor of the 70 countries that invest in Vietnam.
The agreement will come into force after the completion of ratification procedures for both sides, says the statement.