The business environment in Vietnam this year has been assessed as better than last year, according to a recent poll of local and foreign businesses released at the Vietnam Business Forum in Hanoi on December 1.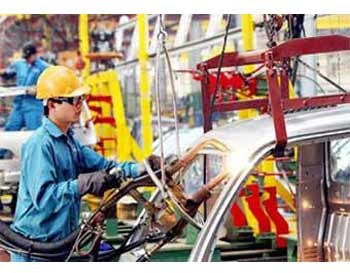 A car is assembled at Xuan Kien Automobile Factory (Vinaxuki) in Hanoi. A new poll suggests local and foreign businesses feel more confident about Vietnam's business environment. (Photo: Ha Noi Moi)
Themed "Positioning for Vietnam Recovery", the annual forum was co-chaired by Vietnam's Planning and Investment Minister Vo Hong Phuc, World Bank Country Director for Vietnam Victoria Kwakwa, and International Finance Corporation Regional Director Simon Andrews.

Representatives of local and foreign companies and organizations attended the forum. Participants reviewed the country's current business environment and expressed opinions about Vietnam's future prospects.
The seminar was held ahead of the 2009 Conference of Consultant Group for Vietnam, which will take place from December 3-4 in Hanoi. 
According to the poll conducted in September, the average score given to the business environment in Vietnam this year was 2.21/4, compared to 1.9 last year. The proportion of businesses that assessed the environment as "poor" dropped to 14.63 percent from last year's 30 percent. 
  
Local businesses gave higher scores to achievements in administrative reforms, financial transactions, legislation, and transparency, while foreign ones appreciated Vietnam's efforts in removing barriers to the Vietnamese market.

Many businesses expected the average score to increase to 2.62 in 2010 and said it could be higher in the years to follow. 
  
The lowest scores were given to fields that businesses considered weak including: infrastructure, intellectual property protection, crackdowns on fake and imitation goods, business dispute settlement, enforcement of court rulings, trade arbitration, and public administration and foreign currency services.