Vietnam cut business taxes in 2008/2009, joining many other economies in East Asia and the Pacific in strengthening business regulations to help increase opportunities for local firms, according to the IFC–World Bank Doing Business 2010 report.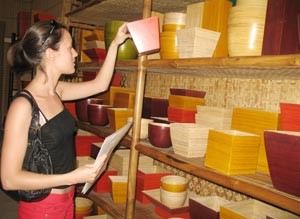 A foreigner at a handicraft shop in Ho Chi Minh City, Vietnam's southern economic hub (Photo: Tuong Thuy)
The WB and its International Finance Corporation (IFC) held a press briefing in Hanoi on Sep. 9 to announce the report.
"Doing Business 2010: Reforming through Difficult Times" said Vietnam cut the corporate income tax rate from 28 percent to 25 percent and eliminated the surtax on income from the transfer of land.
The country also adopted a new enterprise income tax law and value added tax law, the report said.
It added that Vietnam's increasing competition in the logistics industry and the application of new customs administration procedures as part of the country's World Trade Organization membership reform program have reduced trade delays.
"Doing Business 2010" concluded that Vietnam was ranked 93 on the global ease of doing business rankings, virtually unchanged from 91 last year.
Between June 2008 and May 2009, a record 131 of 183 economies around the globe reformed business regulation, according to the report. In East Asia and the Pacific 17 of 24 economies made reforms against the backdrop of the global economic crisis.
Indonesia – the region's most active reformer this year – moved up to 122 from 129 on the global ease of doing business rankings as a result of its reforms, the report said. Indonesia cut the time required to start a business by 16 days and the time to transfer a property by 17 days. The country also strengthened disclosure requirements for related-party transactions to protect investors, according to the IFC-World Bank study.
Singapore, a consistent reformer, is the top-ranked economy on the ease of doing business for the fourth year in a row, with New Zealand as runner-up, the report said. Singapore introduced online and computer-based services to ease business start-up, construction permits, and property transfers.
The study said other reforms occurred throughout the region. Thailand eased business start-up and ranks twelfth globally on the ease of doing business. China made it easier for domestic firms to trade by relaxing rules on trade credit. The Philippines introduced new insolvency rules to make it easier to reorganize firms.
"The quality of business regulation helps determine how easy it is for troubled firms to survive difficult times, how fast local entrepreneurs will start investing again and how quickly new business can get started," said Penelope Brook, acting vice president for financial and private sector development at the WB.
"Doing Business 2010" ranks 183 economies based on 10 topics of business regulations that track the time and cost needed by domestic companies to meet business regulations such as starting and operating a business, trading across borders, paying taxes, or closing a business and others.
The report does not measure all aspects of the business environment that matter to firms and investors. For example, it does not measure security, macroeconomic stability, corruption, skill level, or the strength of financial systems.