Vietnamese leading dairy firm, often known as Vinamilk, was named in Forbes Asia's Fabulous 50 List, which honors the best publicly traded big companies in the Asia-Pacific region.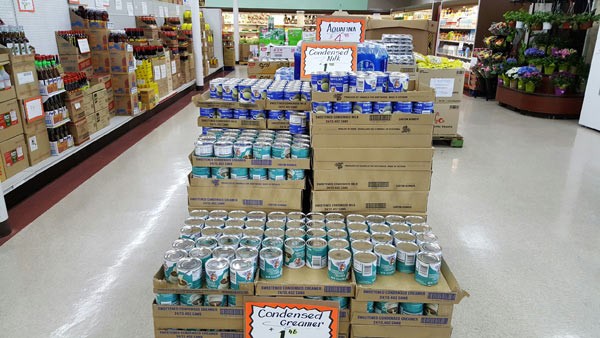 Vinamilk's product, densed milk Driftwood and creamer are sold in a supermarket in the US (Photo: SGGP)
This is the first time a Vietnamese company to rub shoulders with other regional enterprises in Forbes Asia's Fabulous 50 which have published for 12 years to stand at the position of 24.

The list of FAB 50 was published in 2005 aiming to announce 50 leading companies of Pacific Asian countries of food processing, technologies, retail and medicine.
In making Asia's Fab 50 List, Forbes started with a pool of 1,524 public companies that have at least US$1.7 billion in annual revenue in the region such as Japan, South Korea, Thailand, India, China and Australia. The selected companies in FBA 50 must meet standards such as they are losing money or whose revenue is less than it for five years ago.
Additionally, they do not have more than 50 percent state-ownership or not carry a debt ratio higher than 50 percent.

As of August, 2016, Vinamilk's total capital are worth US$9,2 billion with turnover of US$1,8 billion; therefore it is listed the 24th position in FAB 50. Vinamilk's market cap has topped US$10 billion. "Vietnam never placed a company in the Fab 50, but this year Vietnam Dairy Products breaks the ice," the magazine said on August 24.
In addition, as per a report of Euro monitor on dairy firms in the world, Vinamilk was ranked 49 in turnover of dairy products in 2015 which was 18 percent higher than its counterparts in Asian regions at that time.

Moreover, Vinamilk is a leading giant with high liquidity in the region which is a clear evidence for its effective business and strong finance.

At present, vinamilk is still paying attention to local market along with seeking opportunities to expand its foreign markets. With 10 farms and 13 factories in Vietnam, Vinamilk has three factories in the US, New Zeland, Cambodia, a branch in Poland and it is promoting export to new markets including Thailand, Myanmar and Africa region.