Vietnamese enterprises have strictly complied with the regulations set by the European Union for exported goods, therefore the prospect of them getting access to the EU market and being competitive are very positivecomply, said an EU representative.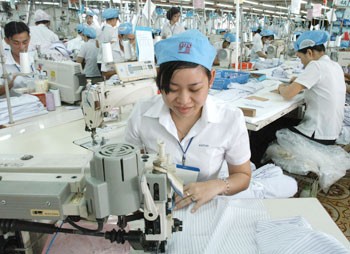 Workers sew T-shirts for export at Viet Tien Garment Company in Ho Chi Minh City
"The technical standards set by the EU are growing in both quantity and depth, yet the amount of Vietnamese goods exported to the market has continued to increase over the years," said Hans Farnhammer, the EU delegation to Vietnam 's First Secretary at a trade conference in Hanoi on June 23.
The conference on trade barriers to Vietnamese business associations and enterprises gathered numerous overseas and domestic experts as well as corporate executives to discuss the opportunities and challenges when carrying out the commitments agreed in free trade agreements.
In 2003, Vietnam exported 2.3 billion USD worth of products to the EU and its export turnover rose to 8.6 billion USD in 2008. Despite the global economic recession in 2009, Vietnam still earned nearly 7.8 billion USD from its exports to the EU.
During the conference, the participants also discussed how to solve international trade disputes and the role of associations when providing advice on export policies and market development strategies to State agencies and enterprises.
Although Vietnam 's exports are likely to increase in 2010, First Secretary Hans Farnhammer said that the country should be careful of trade barriers, especially anti-dumping and anti-subsidising cases filed by local producers in import markets.
The EU is the second largest importer of Vietnamese goods after the US . Many exports including textiles and garments, footwear, fine arts and seafood's are facing technical trade barriers in this market.
Since earlier this year, the EU has imposed a 10 percent anti-dumping tax on Vietnamese leather-capped shoes, slashing the country's footwear exports to the market.
Phan The Rue, the former Deputy Minister of Trade, said that the number of trade disputes relating to Vietnamese exports will increase in the future. Therefore, he emphasised the need for local enterprises to seek legal assistance before starting to send goods to a certain market.
He also called for a market study agency to be set up, which could give an early warning to domestic firms