Economists predict that the Vietnam export to Africa would increase by 20 percent to US$3.12 billion in 2013.
In January, the total shipment of commodities to Africa was US$62.9 million, mainly telephones and components (US$34.3 million), footwear (US$8.1 million), cashew nuts (US$261.4 million), and coffee (US$1.436 million).
Senegal's imports from Vietnam earned US$2.93 million including rice (US$1.39 million), garments and textiles (US$161,300) and means of transport and components (US$195.400) while Algeria's imports reached US$18.9 million, including rice (US$4 million) and coffee (US$9.9 million).
Vietnam and Africa are determined to seek a vigorous growth of trade exchange and Africa remains Vietnam's potential market for export.
Vietnam's exports to Africa have annually increased by 20 percent, earning around US$2.6 billion last year. Its major markets include Algeria, Angola, Mozambique, Ghana, Egypt, Nigeria, Cote d'Ivoire and Morocco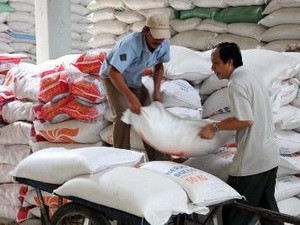 Vietnamese rice is much consumed in Africa
These countries import mostly rice, coffee, pepper, seafood, computers, electronics and components, telephones, means of transport and components, machinery and equipment, garments and textiles, and footwear from Vietnam.
Vietnamese rice is much consumed in Africa. Africa is estimated to buy around 24-24.5 million tons of rice per year, including 10 million tons of imported rice from Vietnam.
Last year, Vietnam earned US$900 million from rice exports to Africa, up 22 percent from the previous year, and US$264 million from telephones and components, up 104.7 percent.

Africa is a major producer of cashew nuts, from which Vietnamese businesses expect to import a large volume of raw cashew nuts to reprocess for export to the US and EU.
In a related news, the General Department of Customs informed that the two-way trade between Vietnam and Myanmar hit US$227 million in 2012, a year-on-year increase of 35.9 percent,
Vietnam enjoyed a trade surplus of more than US$8 million with Myanmar for the first time over the past decade, the department reports.
In 2012 Myanmar ranked 55th among 230 foreign exporters to Vietnam, shipping US$117.8 million worth of commodities, up 42.9 percent compared to 2011.
The potential of trade exchange between the two countries are great as in ASEAN, Vietnamese exports to Myanmar account for just 0.7 percent of its total exports to all ASEAN member countries.
In January 2013 its exports reached US$13.7 million, increasing by 1.8 percent over December 2012. Its major export items were steel products, machinery and equipment, garments and plastics.