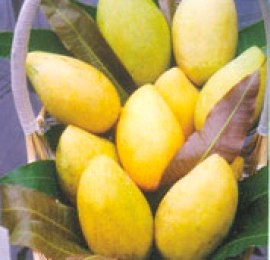 Hoa Loc mangoes
According to Nguyen Van Thuc, deputy head of the Hoa Loc Mango Corp. in Tien Giang Province, the enterprise recently exported 4 tons of Hoa Loc mangoes to Japan, raising the total exports to this market to 60 tons.
By June this year, the corporation will fulfill a contract to export 100 tons of mangoes to Japan, he said.
The company is also in the progress of preparing around 5 tons of Hoa Loc mangoes for the first Vietnam fruit festival to be held from April 19-24 in Tien Giang.
Hoa Loc mangoes are one of the most well known varieties of mango cultivated in the Mekong river delta because of their pleasant aroma and sweetness.