12,500 tons of cement was exported to Africa for the first time by The Cam Pha Cement, part of Vietnam Construction and Import-Export Corporation (Vinaconex), on March 25.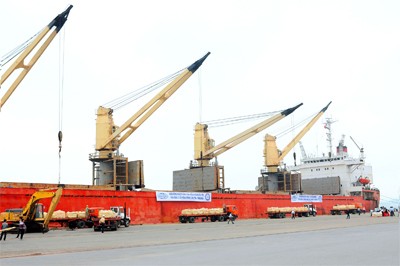 The first batch of cement is transferred
A contract for the first shipment to Mozambique was signed on January 6.
The Cam Pha Cement has produced more than 1.2 million tons of clinker and 300,000 tons of PCB 40 cement. It has also produced 195,000 tons of clinker and 6,800 tons of cement to South Vietnam.
The Cam Pha cement has become popular not only on the domestic market but also in foreign markets such as Europe, the Middle East, Africa and South America.
The Cam Pha Cement has an investment capital of over VND6 trillion and an annual capacity of 2.3 million tons of PCB 40 cement.