The Ministry of Agriculture and Rural Development held a seminar in Hanoi November 19 to discuss a pilot project to process puffer fish for export.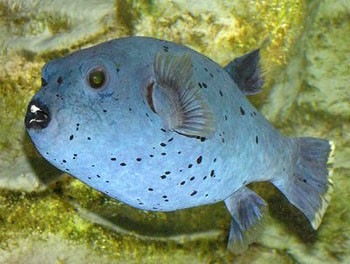 The puffer fish. Vietnam is again planning to process the  fish for export to Republic of Korea on a trial basis (Photo: Wikipedia)
The pilot is expected to be carried out from 2010 to 2012 in Quang Ninh, Nghe An, Phu Yen, Khanh Hoa, and Kien Giang provinces.
In 2010 the output of processed fish will be 800 to 1,000 tons and it will be exported at US$5-10 a kilogram.
By the end of 2012 export of puffer fish will be worth $4 million to $10 million.
To ensure safety, the fish will initially be sold only to a few Republic of Korean companies.
Vietnam has 50 varieties of puffer fish with estimated stocks of 37,000 tons, almost half of them living in the waters off the central region and another fifth in the southwest.
The toxic fish was allowed to be caught since 2003 but since Vietnam lacked the know-how to safely process it, it was only fed to livestock.
But in countries like RoK, China, and Japan, the fish has always been very popular because it is delicious and nutritious.
In 2005 Vietnam exported the fish to RoK on a trial basis but soon stopped.