Vinafood2, a major rice exporter of Vietnam, has secured a contract to ship 300,000 tons of 5% broken rice to Malaysia with delivery starting in March next year, according to the Vietnam Food Association.
Both the exporter and the association did not tell the export prices. However, Malaysian newspaper The Star said Tuesday that the deal would be worth nearly $150 million.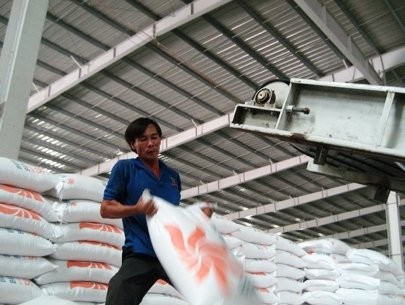 File photo shows rice stock at a factory in Vietnam
Malaysian Agriculture Ministry data show that the country has imported around 400,000 tons of rice from Vietnam in the first 10 months, up from around 300,000 tons in the same period last year.
Vietnam expects to ship 7 million tons of rice next year, according to the country's Ministry of Agriculture and Rural Development data.
The Vietnam Food Association told a rice export review meeting in the Mekong province of Tien Giang last week that Vietnam shipped overseas 7.35 million tons of rice between January and November, up 4.3% on the same period last year. A total of 617,000 tons will be delivered this month, according to the association.