Ho Chi Minh City-based Vinh Hoan Corporation has won a special award at the Seafood Prix d'Elite New Products Competition which was organized as part of the European Seafood Exposition 2009.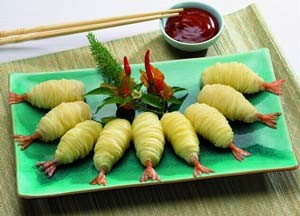 A Vinh Hoan Corp. dish of shrimp covered by potato
The company's product, named Seafood Harmony, surpassed 37 other items brought to the expo by businesses from a number of countries such as Spain, France, Denmark, the UK and Turkey, to take the special award in the health and nutrition category.
Organizers said the Vinh Hoan Corporation is the first firm from Asia that has secured a notable prize at the competition.
Forty-five Vietnamese seafood processors and exporters joined 1,600 other businesses from 75 countries and territories worldwide in the 17th expo, the largest of its kind in the world.
During the course of the three-day event, which ended on April 30, a number of seminars and exhibitions regarding the exploitation of marine resources, sustainable aquaculture development, and seafood processing technology were held.