Vietnam Food Association envisages many difficulties and challenges for the country's rice exports in the coming year.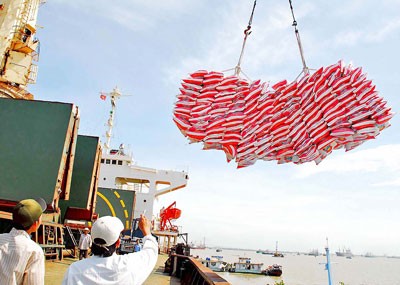 Rice exports from Vietnam are expected to decline in 2013 (Photo: SGGP)
According to the association, Vietnam will face serious competition from Myanmar and Thailand in 2013. Besides this, some countries are expected to reduce import of rice.
Indonesia said that they might not import rice at all or may minimize the volume because of excess stock at hand, having purchased 1.7 million tons this year. Malaysia also has rice in stock and will not import in the first quarter.
China too has signed an agreement to buy rice from Thailand, which will be a serious loss as at the moment China is the biggest exporter of rice from Vietnam.
The Ministry of Agriculture and Rural Development is planning to buy rice for stockpile during the winter spring crop and will submit the plan to the Government for approval.
The ministry has also asked provinces in the Mekong Delta to reduce rice cultivation area in the next summer-autumn crop to balance supply and demand.
The Government is scheduled to stockpile 2.5 million tons of rice in the coming winter-spring and summer-autumn crops.
According to Vietnam Food Association, the country has exported more than 7.3 million tons of rice since the beginning of this year, which is 195,000 tons higher than last year. However the export turnover reached only US$3.3 billion, which is $400 million lower than last year.