The Vietnam Franchise Club has started operations as an association established to help enterprises in the country to develop business via franchise, a model popular in developed countries but quite new in Viet Nam.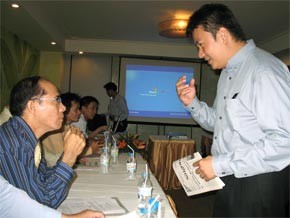 Ngo Duong Hoang Thao (R) exchanges franchise ideas with participants at the meeting. (Photo: Tuong Thuy)
"The club includes directors and experts in the franchise field who are keen to develop the model and contribute to the socio-economic development of the country," chairman Ngo Duong Hoang Thao said at the Ho Chi Minh City-based club's first gathering on Friday.

"Our vision is to attract leading franchising businesses in Viet Nam, sharing the mission to develop the industry for both domestic and international markets," said Mr. Thao, also president and CEO of the city-based First Indochina Group.
He and bosses of some other Vietnamese companies have initiated the idea of such a club, the club's secretary told Sai Gon Giai Phong, adding it has more than 40 members already.
Mr. Thao said the club would organize seminars, conferences on franchising, support its members in publicizing their brands and products, and organize activities to strengthen the relationship between members.

The association will organize a franchise exhibition on December 8 in Ho Chi Minh City. It will also organize working trips in the US next year.
Mr. Le Hoang Anh from the US Commercial Service under the US Consulate General in HCM City said Hard Rock Cafe, Dale Carnegie & Associates Inc, and Office 1 International (all American) have confirmed with his service that they would come to Viet Nam soon to look for Vietnamese franchisers.
"Opportunities had never been better than before," he said.
He added that his service and the Vietnam Franchise Club are working together on working trips in the US next year, in which Vietnamese business people will meet with representatives of the International Franchise Association and American companies.
Viet Nam became the World Trade Organization's 150th member on November 7 and successfully hosted the 14th APEC Economic Leaders Meeting last week, in which US President George W. Bush participated. American businesses expect the US House of Representatives to pass a permanent normal trade relation bill for Viet Nam soon.
Related links
Vietnam Franchise Club
Hard Rock Cafe
Dale Carnegie & Associates Inc
Office 1 International
International Franchise Association