While duty-free shops at most border crossing points with Cambodia are full of imported goods, the Tinh Bien border gate economic zone in the southwestern province of An Giang stocks mostly Vietnamese high-quality goods.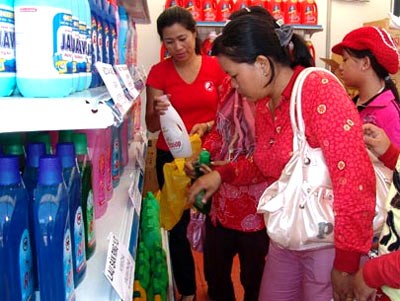 Cambodian shoppers at a duty-free shop on the Vietnamese border. The Tinh Bien border gate economic zone in An Giang Province stocks mostly Vietnamese high-quality goods and has been doing roaring business since opening on August 22 (Photo: TT)
Since opening on August 22, trade has been flourishing here with large volumes of goods exported to Cambodia every day.
 
It sells a range of Vietnamese goods, including food, cosmetics, clothes, household appliances, and furniture.
 
Thousands of shoppers flock to Tinh Bien daily, mostly from the Cambodian side.
 
Many of them say they used to buy Chinese and Thai products but have now switched to Vietnamese after many supermarkets opened along the Vietnamese side.
 
Many Cambodian retailers come to buy goods in large quantities to sell in remote parts of their country.
 
At Tinh Bien, Vietnamese shoppers can buy duty-free goods worth up to VND500,000 a day.
 
Nguyen Minh Tri, head of the An Giang border gate economic zone's management, said the zone has an average daily turnover of VND1 billion, and three times that on weekends. 
 
Many of the supermarkets at the zone regularly order large quantities of goods and ask to be their distributors in Cambodia.
 
Nguyen Thi Hong, deputy chairwoman of the Ho Chi Minh City People's Committee, said Cambodia is a promising market.
 
The city is promoting its relations with An Giang and Tay Ninh Provinces to build warehouses there to facilitate export of its goods to Cambodia.
 
Trade between the two countries has risen by 37 percent in the five years to 2008.
 
Official agencies forecast it to reach US$2.31 billion in 2010 and US$6.55 billion in 2015.
 
More than 150 Vietnamese firms have established branches and shops in Cambodia.

Vuong Dinh Ngan, deputy head of the Trade Promotion Department under the Industry and Trade Ministry, said the zone is not only a place for duty-free shops but also a place for local producers to introduce their products and establish relations with Cambodian importers.