Deputy Prime Minister Nguyen Thien Nhan on September 20 presented the "Vietnam Golden FDI" Awards to 85 foreign direct investment (FDI) businesses and 15 entrepreneurs that have attained the most outstanding production and business performances in and out of the country.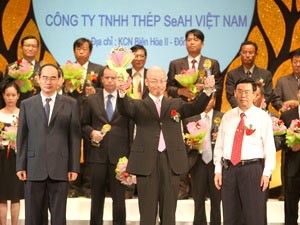 Deputy Minister Nguyen Thien Nhan (1st, L) at the Vietnam Golden FDI award ceremony, which was held in the Hanoi Opera House on September 20
"The Vietnamese Government always attaches importance to attracting foreign direct investment and considers it an important resource for national development," Mr Nhan emphasized.
The Deputy PM reiterated that the Government would further improve the investment environment for luring more foreign investors into Vietnam and encouraging local businesses to invest in other countries.
He said he hoped the slogan "For a friendly and developed Vietnam" will become a motto of operations for all FDI businesses in the coming time.
The Vietnam Golden FDI, which was organized for the first time this year, aims to honor and encourage FDI businesses operating successfully in Vietnam, as well as outstanding Vietnamese companies investing directly in foreign markets. 
The award will be granted every two years, with at least 100 prizes for both domestic and foreign businesses.
The 85 companies that received awards this year were selected from 1,000 candidates.
 
Four of the 15 honored entrepreneurs were Vietnamese.
 
Since the Law on Foreign Investment enacted in 1988, more than 10,000 FDI businesses are operating in Vietnam with a combined capital of US$174 billion. They have generated direct jobs for nearly two million people and created indirect work for millions of others.
According to the Ministry of Planning and Investment, Vietnamese businesses have invested in 440 projects in 49 countries and territories at a total investment capital of US$6.8 billion.