Vietnam hopes the European Union would make a fair and impartial decision to end anti-dumping duties on Vietnamese leather-capped shoes, Ministry of Foreign Affairs spokeswoman Nguyen Phuong Nga said December 3.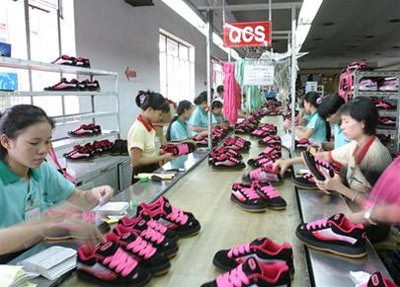 Workers make shoes for export at Thai Binh Company in Binh Duong Province. The EU is set to make a decision on lifting anti-dumping tariffs against Vietnamese leather-capped shoes in December.
Talking to the media about the European Commission (EC)'s imminent final decision on extending the anti-dumping taxes, she said: "Vietnam has said many times that Vietnamese enterprises do not dump leather-capped shoes on the European market.
 
"The imposition of anti-dumping duties on Vietnamese leather-capped shoes is not unbiased and causes adverse impacts on Vietnamese production and export of leather shoes, which is a sector with a large number of workers, mainly women, as well as European producers, retail associations, and consumers."
 
The EU's Anti-dumping Advisory Committee voted November 19 to reject a proposal by the EC to extend the anti-dumping duties on leather-capped shoes from Vietnam, she pointed out.
 
"Removing the anti-dumping tariffs conforms with the ongoing development of the multi-faceted cooperation between Vietnam and the EU, and is beneficial for expanding economic and trade relations between Vietnam and the EU."
 
On the same day the Ministry of Agriculture and Rural Development (MARD) held a conference to prepare for setting up a system to prevent illegal fishing as required by the EC.
 
The EC requires setting up a system to prevent, deter, and eliminate illegal, unreported and unregulated (IUU) fishing, which is also known as the IUU Law.
 
Under the IUU Law, aquatic produce imported into the EU must be accompanied by certificates containing name of fishing vessel, area captured, and other details, the ministry said. The law covers all processed and non-processed products except freshwater, ornamental, and farmed fish.
 
Captains of fishing boats having engines of 90 horsepower or more must have a diploma and a license and log figures for fish catches and send them to related departments.
 
The law is aimed at protecting the marine environment and resources, having a control mechanism, and easily tracking origins of aquatic product.
 
The ministry's Department of Fisheries Exploitation and Fisheries Resources Protection said implementation of the IUU Law is essential but difficult in Vietnam due to the country's infrastructure and administrative problems.
 
It said there are around 130,000 fishing vessels in the country, but only 16 percent of them under authorities' oversight.

The Vietnam Association of Seafood Exporters and Producers said implementation of the law, to begin in the new year, would reduce the country's seafood exports in the first quarter of 2010, increasing stockpiles with enterprises and fishermen.
 
The EU is now Vietnam 's largest seafood importer, buying a third of the country's total aquatic exports. Twenty six out of its 27 members import Vietnamese seafood products.