The Department of Import and Export under the Ministry of Industry and Trade forecasts that Vietnam will export around 108,000 tons of pepper this year, a decrease of 10 percent, earning revenue up to $800 million.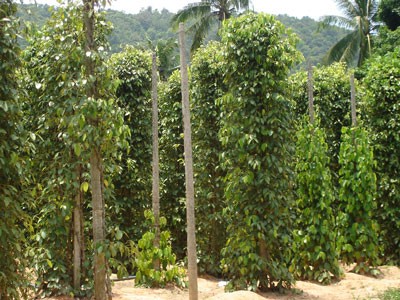 Pepper trees grown in Phu Quoc Islet in the Mekong delta province of Kien Giang (Photo: U. Phuong)
In 2011, Vietnam exported more than 124,000 tons of pepper but only earned $730 million. This shows that export price of coffee and pepper increased, despite the economic downturn.
Seven of Vietnam's agricultural products such as seafood, rice, coffee, rubber, wood, cashew nut, and manioc entered the US billion dollar club, which includes commodities that bring in revenues worth $1 billion for the country.
This year, the ministry plans to export more pepper to earn from $850-900 million. However, due to diseases destroying the core of the tree, export volumes have fallen.  Although Vietnam has just entered the  pepper market, it has quickly turned to be one of the world's number one pepper exporters, making up for almost half of the world's pepper exports.
In the countryside, farm area for pepper cultivation is only 2.5 percent of the two million hectares meant for fast-growing industrial trees. Nevertheless, the plant achieves more than 8 percent in export value or $56.8 per hectare.
Because price of pepper is three or four times more than that of coffee,  with one hectare of pepper generating VND250 million ($12,000) per year, pepper farmers make more money and their living standards are far better.
This has also increased farm land for growing pepper much more rapidly since 2011--currently 55,400 hectares, eight times more than in 1995.
Vietnam is already among the world's biggest producers of robusta coffee, cashew, rice and pangasius fish. However, only pepper can control the market and prices.
In the agro-products business, there is a rule that prices decrease on bumper crops and pepper prices face this as well. The Vietnam Pepper Association (VPA) said price fluctuation in the world occur every 3-5 years but Vietnamese pepper prices have increased in recent years.
Explaining this, Do Ha Nam, director of Intimex Company said pepper farmers are rich these days as they keep their product in warehouses and sell at the right time.
Farmers even register to buy information from foreign news agencies to be abreast with world prices. VPA also helps farmers in pricing and in deciding when to sell. Good coordination between the association and farmers has yielded benefits for both.