The instant noodle market has become fiercely competitive with several foreign companies too entering the fray along with their Vietnamese counterparts.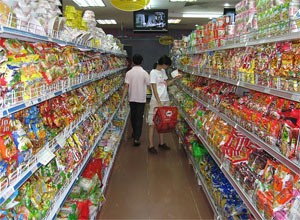 Instant noodle brands line the shelves at a HCMC supermarket. So many have mushroomed in the last two years that official numbers are no longer available.
Unofficial statistics showed that last year there were 50 companies making five billion packs, with the market growing at an average of 15-20 percent a year.

Analysts forecast output to increase to 6-7 billion packs within three years.

Until five years ago just three brands -- Hao Hao, Hao 100, and Gau Do -- dominated the market but in the last two years, so many new brands have mushroomed that official figures are not available.

Vina Acecook, Asia Food, Vifon, Uni-President, Massan, and Miliket companies now hold over 90 percent of the market with hundreds of brands.

As for prices, a pack costs from VND1,500 at the low end to VND10,000 for upmarket varieties.

Japanese firm Vina Acecook is the runaway market leader with a 65 percent share. Locally-owned Asia Food with brands like Gau Do, Hello, Vifood, Hao Hang, Osami and Trung Vang is second with a 20 percent share.

Fierce competition ahead

Nguyen Manh Ha, general director of Asia Food, said noodle companies are facing more and more competition besides which other instant foods like porridge and rice noodles are also coming into the market.

To reduce costs and remain competitive, companies have to install modern production lines, he said.

The companies have said they will diversify in terms of ingredients, flavors, and packaging.