Vietnam is Japan's third largest software services provider with a 0.5 percent market share, the Vietnam Software Association has said.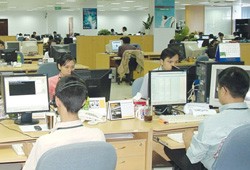 Global Cybersoft Company's office in HCMC. Vietnam software services export to Japan is increasing at 100 percent annually (Photo: SGGP)
China leads with an 85 percent share followed by India with14 percent.
But a recent survey by the Japan Information Service Industry Association of companies there found Vietnamese software companies to be their favorite partners.
Vietnamese software firms' annual billing of Japanese clients has grown at 100 percent in recent years.
Many of them earn 100 percent of their revenues from providing software services to Japanese companies.
Vietnam has a target of acquiring at least 5 percent share of the Japanese software market by 2015.