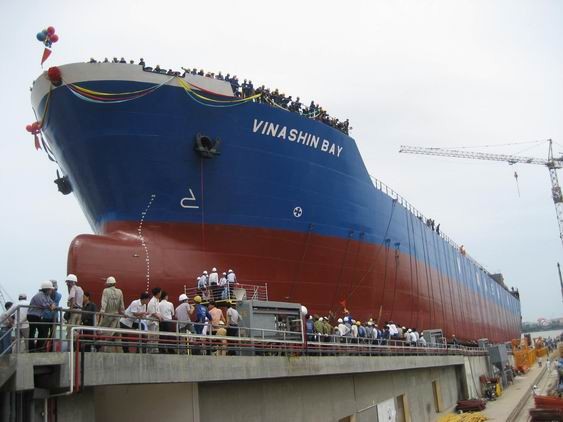 This file photo shows the launch of the Vinashin Bay ship built by the Vietnam Shipbuilding Industry Group (Photo: Vinashin)
Vietnam and Japan hold a big opportunity for cooperation in shipbuilding as the world's second largest economy is recovering and the Southeast Asian country's shipbuilding industry boasts various potentials.
Vietnam 's Investment Counsellor to Japan Le Huu Quang Huy delivered the message at a seminar on shipbuilding in the capital city of Tokyo on June 18.
Huy said Vietnam has a wide range of potentials to develop the shipbuilding industry, citing its coastline of 3,200 km, 120 seaports, abundant and skilled workforce and low labour costs.
Meanwhile, the counsellor said, Japan possesses a large source of capital and a developed shipbuilding industry, with around 1,200 shipbuilding yards and 1,200 seaports. In particular, Japan 's economy is bouncing back and likely to achieve a growth rate of 1.9 percent this year, he added.
Huy pointed out three major challenges the shipbuilding industry will face after 2011 such as capital shortages due to tightened regulations on credits, changes in the demand for marine shipping and fluctuations of oil prices.
He called on shipbuilding companies from the two countries to increase the exchange of visits and meetings to discuss cooperation opportunities and ways to cope with these challenges.
According to the official, Vietnamese and Japanese businesses can cooperate in training personnel, treating environmental pollution at shipbuilding yards and developing supporting industries to serve shipbuilding.
At the seminar, Japan 's maritime expert Nagatsuka Seiji proposed a number of solutions, including the enhancement of cooperation with India , Vietnam and the Philippines , to help Japanese shipbuilding firms cope with fierce competition from regional rivals such as the Republic of Korea and China.