A delegation from Vietnam's northern province of Quang Ninh led by Nguyen Van Doc, Deputy Secretary of the provincial Party Committee and Chairman of the provincial People's Committee, is on a working visit to Laos from Oct. 1-8.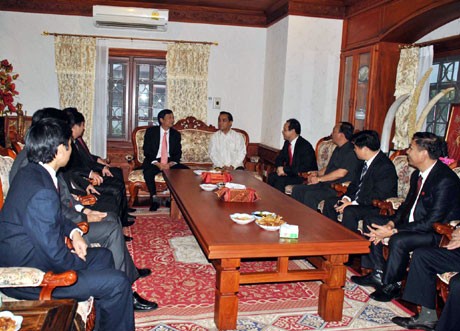 Lao Prime Minister Thongsing Thammavong (in white) receives the Quang Ninh Province delegation on October 1, 2011 (Photo: Quang Ninh Province newspaper)
The visit aims to boost cooperation between the province and northern Lao provinces of Luang Prabang, Sayabuly and Houaphan.
At an Oct. 1 meeting with Lao Prime Minister Thongsing Thammavong, Doc informed his host of Quang Ninh's cooperation plan with the three provinces of Laos, saying Quang Ninh will build a park in Houaphan province and a high school in Luang Prabang province.
Quang Ninh and the three northern Lao provinces also plan to conduct visits to enhance mutual understanding, exchange experience and promote their cooperation in trade, tourism, culture, education and human resource development, said Doc.
He affirmed that the provinces will create the most favourable conditions for each other's businesses, contributing to strengthening cooperation between the two countries.
For his part, the Lao PM congratulated Quang Ninh on its socio-economic achievements, saying the province's cooperation with the northern Lao provinces is very useful to their development.