Petrol prices have reduced several times since July last year but transport firms have almost not reduced their freight rates, making Vietnam a nation with the most expensive freight in Southeast Asia, said experts at a seminar in Ho Chi Minh City on September 8.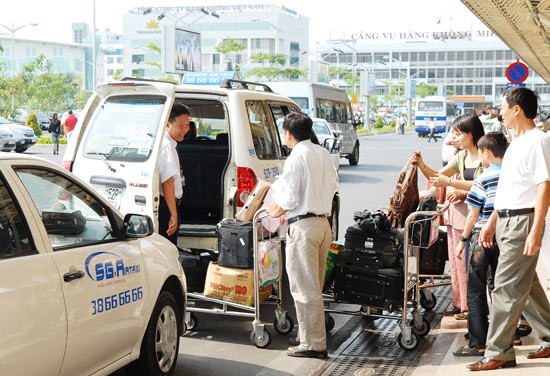 Passengers get in a taxi cab at Tan Son Nhat International Airport (Photo: SGGP)
That has doubled damage to consumers who have not only been affected by high transport fees but also unchanged prices of other commodities, they said. 
 
Deputy Chairman of the Vietnam Standard and Consumers Association Nguyen Manh Hung said that petrol prices had been adjusted 14 times from July 28 last year to January this year, dropping by 39 percent.
 
However most transport firms have not cut their freights. Some have reluctantly lowered the rate by 3-10 percent because of public pressure while the reduction level should have been doubled or tripled of that.
 
On September 3, the Ministry of Industry and Trade continued cutting Ron 92 gasoline price by VND1,198 a liter to VND17,338 a liter, ethanol gasoline E5 to VND16,843 a liter. Diesel and mazut also slid to VND13,310 a liter and VND9,351 a kilogram.
 
The move has cut petrol price by 16.3 percent and oil by 17.23 percent compared to that before July 4. Accordingly, freight must have been slashed at least 4.1-7.75 percent but firms have yet to do so.
 
Transport companies have adduced many reasons for the lateness, for instance, taxi fares were not increased when petrol price hiked, fare changes would be costly because they have to reinstall taxi meters or they are calculating reduction level, etc…
Therefore, Vietnam is ranked the first in expensive freight rates in the Southeast Asia.
 
Average taxi fare swings from VND11,000-13,900 a kilometer in Hanoi and Ho Chi Minh City while it is only VND3,800 (6 bahts) in Bangkok, VND5,700 (12 pesos) in the Philippines, VND6,300 (4,000 rupiahs) in Jakarta and VND8,700 (0.55 dollars) in Singapore.
 
Mr. Dung said the above explanation a quibble and irresponsible to consumers as in fact there have been few cases in which gasoline price increased but freight rates did not move up.
 
He asked why businesses could timely reinstall their taxi meters when petrol prices went up but say it costly and complicated when fuel price went down.
 
The Vietnam Standard and Consumers Association has continuously raised its voice over the unchanged freight rate since last October to authorized agencies, local transport associations, and price management departments under the Ministry of Finance.
 
The department has consulted the Government, the Ministry of Finance and the Ministry of Transport to estimate fuel price structure in transport business.
 
The Ministry of Finance has sent documents to the Ministry of Transport and provincial and city people's committees, proposing them to ask businesses to reduce freight rates to match the down fuel price and handle those violating regulations on freight management. Consumers are still waiting for effects from these moves.
 
Mr. Khuat Viet Hung, deputy chairman of the National Traffic Safety Committee stressed that it is time to reconsider responsibilities of authorized agencies for letting the issue occur and lengthen.
 
On Tuesday, the Ministry of Transport decided to establish three inspectorates to inspect freight rates posted by businesses nationwide.
 
It has also instructed transport departments in provinces and cities to list names of firms who have reduced the freight, the reduction level, as well as those who have yet to make any change, and present their difficulties in freight management.
 
Minister Dinh La Thang asked the departments to invite some transport firms, bus stations, automobile transport associations and related agencies to attend working sessions of the inspectors.
 
The inspection is instructed to complete before October 20.