Vietnam and the Principality of Monaco should boost cooperation in agriculture, infrastructure, finance and banking, on the back of their growing economic ties, Vice State President Nguyen Thi Doan said.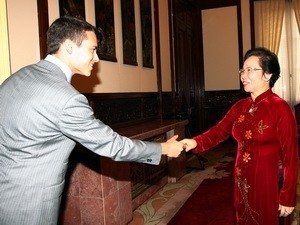 Vice State President Nguyen Thi Doan (R)greets MimRan Group chairman (Source: VNA)
She made the remarks during her reception for the Chairman of the MimRan Group of Monaco, Nachson MimRan, in Hanoi on April 9, citing the two-way trade value of 1 billion USD between Vietnam and Monaco.
The Vietnamese leader affirmed that Vietnam's investment environment is favourable with stable security and expressed her hope to see the MimRan Group to early formulate an investment plan in Vietnam so as to help facilitate both countries' exports.
The MimRan Group Executive said as engaged in a wide range of business lines, he is eager for investing in Vietnam, especially in agriculture, real estate and finance.