PetroVietnam Exploration Production Corporation announced that PetroVietnam Exploration and Production Corporation (PVEP) and two partners have signed a 451.3 million USD engineering contract with the Algerian state-owned oil and gas company SONATRACH.
Groupement Bir Seba (BBRS), a joint venture between three parties : Algeria national oil Company SONATRACH, Petroleum Authority of Thailand (PTTEP of Thailand) and PVEV signed an agreement EPC-1 with a Japanese company (Japanese Gas Corporation) to install facilities on Aug 28th.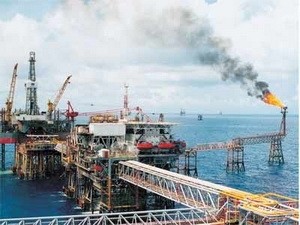 A sea oil rig of PetroVietnam
The total output of oil exploited from the Bir Seba oil field is expected to reach 20,000 barrels a day by 2014 and between 36,000 and 40,000 barrels a day by 2016.
PVEP, an affiliate of the Vietnam National Oil and Gas Group (PetroVietnam) holds a 40 percent stake in the Bir Seba joint-venture which was established in August, 2009
Groupement Bir Seba and Japan Gasoline Corporation will build an oil refinery with a capacity of 20,000 barrels a day, a gas transportation factory capable of carrying 1 million cube meters a day, and two oil pipelines, it is reported.
The facilities, to be built at the Bir Seba oil field in southern Algeria, will also include a power plant, and will take 31 months to build.
Oil production was expected to begin by 2014 when output would be 20,000 barrels a day, and increase to 36,000-40,000 barrels in 2016.