The Vietnam Chamber of Commerce and Industry (VCCI) and its Omani counterpart on Jan. 10 signed an agreement to establish the Vietnam-Oman Business Council.
Speaking at the signing ceremony, VCCI Vice Chairman Doan Duy Khuong said the council will work as a bridge for businesses and concerned agencies of the two countries to exchange information as well as economic, trade and investment policies, so they could put forward proposals to the governments to remove difficulties and develop bilateral relations.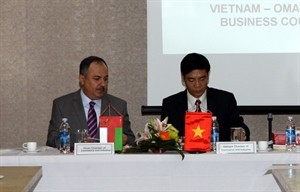 Photo: Vietnam News Agency
"VCCI is ready to support and create favourable conditions for businesses from the two countries to cooperate," the official said.
Khuong said the governments of Vietnam and Oman are actively carrying out cooperation programmes covering economic, trade and investment areas. In particular, the Vietnamese government is planning to set up Vietnam-Africa and Vietnam-Middle East Business Forums in an effort to step up economic ties with nations in the two regions, he said.
Meanwhile, Chairman of the Oman Chamber of Commerce and Industry Khalil Bin Abdulla Al Khonji said he hoped that the council would begin operations this year, to facilitate cooperation plans, especially in finance, banking, tourism, real estate, oil and gas, and thermoelectric power.
On the same day, Vietnam and Oman signed an investment promotion and protection agreement.
According to VCCI, bilateral economic cooperation still has limitations. By the end of November 2010, two-way trade stood at just 37.9 million USD, of which 7.7 million USD came from Vietnamese exports.
Vietnam mainly exported foods, foodstuffs, coffee, garments, pepper, fruits and vegetables and footwear to Oman , while importing automobile components and plastics materials from the Arabian country.
Oman is considered a potential labour market for Vietnam as 70 percent of its workforce are foreigners.