The CSCL Star container vessel with the capacity of 160,000 tons landed at Cai Mep seaport belonging to Cai Mep-Thi Vai complex in the southern province of Ba Ria-Vung Tau on Thursday, making it the first time the country received such a large tanker.
The CSCL Star container vessel lands at Cai Mep seaport, Ba Ria-Vung Tau province on October 29 (Photo: SGGP)
Deputy Minister of Transport Nguyen Van Cong said the event plays a significant role to Vietnam's seaport industry, marking the beginning of efforts to develop Cai Mep-Thi Vai into an international transit seaport complex.
At present, Portcoast--consulting firm in sea port development in Vietnam is studying to permit 100,000 ton vessels to regularly enter Cai Mep-Thi Vai as per instruction by the Ministry of Transport.
The move shows the Government's determination to develop the complex into an international transit port, Mr. Dong said.

Cai Mep-Thi Vai received nearly 1,000 vessels in the first nine months this year, up 40 percent over the same period last year. Of these, there were 300 vessels of over 80,000 tons, up 60 percent over a year ago.
Vietnamese goods exported to the U.S. and EU have transited via other nations in such as Hong Kong (China), Singapore and Malaysia for a long time.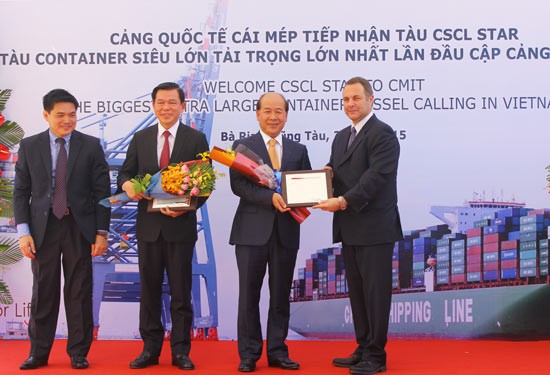 Deputy Transport Minister Nguyen Van Cong (2nd, R) at the event (Photo: SGGP)
Therefore, the Government and the Ministry of Transport have set a target to develop an international transit seaport to reduce costs and improve competitiveness of export commodities from Vietnam.
In June 2011, the Prime Minister has instructed authorized agencies to invest in container and general ports at Cai Mep and Ben Dinh-Sao Mai areas, making them an international gateway in the southern region to meet export import demand.