In the first half of 2012, Vietnam registered 452 new foreign invested projects and reported capital increase in about 123, said a Government official to the media.
Thus Vietnam attracted nearly US$6.4 billion in investments, an increase of 72.3 percent over the same period last year.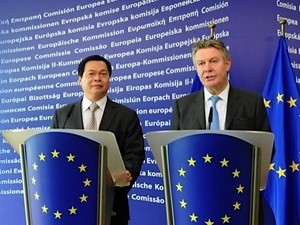 Vietnamese Minister of Industry and Trade Vu Huy Hoang (L) and the EU's Trade Commissioner Karel De Gutch officially begin negotiations for a Free Trade Agreement between Vietnam and the EU in Brussels , Belgium , on June 26. (Source:VNA)
Industrial processing, manufacturing accounted for approximately 63 percent of the registered capital; followed by real estate with a registered capital of nearly 25 percent; group projects in wholesale, retail, repairs about 10 percent, announced the head of the Foreign Investment Department under the Ministry of Planning and Investment.
Meanwhile, FDI disbursement in June is estimated to have been US$890 million, its lowest level in four months. In accumulated figures of six months, FDI disbursement reached US$5.4 billion, up nearly 2 percent over the same period in 2011.
In the list of largest investors, Japan is ranked Number 1 with nearly $4.1 billion (65 percent). In foreign investments, Binh Duong Province is leading with US$1.7 billion.
However, the target of attracting foreign direct investment capital of upto US$15-17 billion this year is still far away, especially in context of global FDI flows continuing to decline.
However, replying to the press on this issue on June 27, Do Nhat Hoang, director of Foreign Investment Department, maintained that in recent months the situation of foreign investment was quite stable and foreign capital structure changes were moving in a positive direction.
"With this momentum, if no big change occurs on the international market and the measures that the government is applying prove to be effective, it is likely we reach the set goal in attracting foreign investment, "Mr. Hoang stated.