Minister of Industry and Trade Vu Huy Hoang and Republic of Korea's  Minister of Trade Industry and Energy Yoon Sang-jick formally signed Vietnam- Korea Free Trade Agreement (VKFTA) in Hanoi on May 5 in the presence of Prime Minister Nguyen Tan Dung and representative of relevant ministries, departments of the two countries.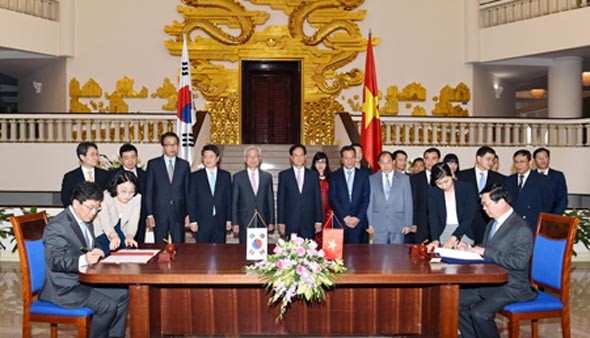 Prime Minister Nguyen Tan Dung witnesses a FTA signing ceremony between two countries.
The agreement aims to strengthen further the two countries' economic cooperative relations.
Pursuant to free trade agreement (FTA), Vietnam will receive preferential trade and investment opportunities in the new market.
Republic of Korea agreed to liberalize trade for importing Vietnamese goods by 97 percent such as electronics components, agricultural products, seafood, textiles and furniture.
Currently, Vietnam is the first trade partner of Republic of Korea, which was expanded its market for exporting garlic, ginger, bee's honey, batata.
Vietnam also agreed to cut down 93 percent of import duties for all Republic of Korea's raw materials such as electronic component, truck and car accessories and others.