The government rice export management group foresees that next year rice exports will not be as high as this year but will still be good, ensuring that farmers profit by 30 percent or even more.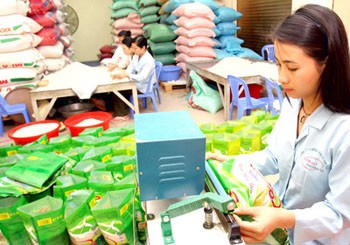 Rice being packed for export at a business unit in HCMC (Photo: SGGP)
The management group believes that farmers should stockpile and not worry with the current slowdown in exports, due to return of some south Asian countries like India, Pakistan and Myanmar to the rice export trade.
It is forecast that next year the world rice trade will be about 32.5 million tons of which Thailand is expected to export 8.5 million tons and Vietnam 6.5-7 million tons. Export from both the countries will account for nearly 50 percent of the world market share.
The remaining bulk of the rice will come from India, Pakistan and Myanmar, mostly of low grade quality at lowered prices, while Thailand rice will remain expensive because of its high end variety. Vietnam rice is in the mid-segment.
India, Pakistan and Myanmar have recently exported low quality rice at low prices creating a huge disadvantage for Thailand and Vietnam.
Over the last two months, Vietnam has not garnered any new contract as rice importers have switched to India and Pakistan. This has led businesses to reduce purchasing of rice, causing prices to plunge by VND1,000 to fetch aroundVND6,000 a kilogram.
 
Pham Van Bay, permanent deputy chairman of the Vietnam Food Association (VFA) on December 13 said that rice prices had increased slightly by VND200-250 per kilogram in recent days.
Vietnam has also received a new contract to deliver 300,000 tons of rice to Malaysia by the end of March next year, taking the total volume needed to be delivered to 600,000 tons. Earlier Vietnam had signed a contract to export 300,000 tons to Indonesia in 2012.
The Philippines is an important partner, and Vietnam has provided most of the 860,000 tons of rice that Philippines needs this year.
The country is said to target 850,000 tons next year, 550,000 tons to be delivered by March.
South Asian countries find it hard to deliver rice in a hurry while Thai rice prices are too high. As a result, Vietnam hopes to be the main exporter of rice to the Philippines.
This year for the first time Vietnam has exported to China 400,000 tons of fragrant rice, after many years of small trading at border areas. The Vietnam Food Association plans to set up a club for Vietnamese and Chinese businesses to boost rice exports in this market.
VFA said that rice exports will face difficulty at the beginning of 2012 but will soon stabilize. Farmers must remain calm amidst the current situation.
 
Vietnam is expected to export 7.1 million tons of rice this year with a total turnover of US$3.7 billion, the highest volume and turnover ever in the rice export industry.