Truong Thanh Phong, chairman of the Vietnam Food Association, said that Vietnam might export 7.5 million tons of rice this year, an increase of 400,000 tons from last year.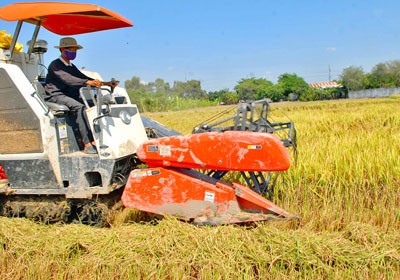 Rice being harvested in the Mekong Delta (Photo: SGGP)
Recently, the Vietnam Southern Food Corporation signed a contract with the Indonesian Bureau of Logistics (Bulog) to export 300,000 tons of 15 percent broken rice.
The delivery will be made from late October until the end of next year, which will also be harvest time for the autumn-winter rice crop in the Mekong Delta.
Last month, the Ministers of Trade of Vietnam and Indonesia signed a Memorandum of Understanding on furthering rice trade between the two countries during the period 2013-2017. Accordingly, Vietnam will sell 1.5 tons of rice to Bulog every year.
Besides Indonesia, China and the Philippines are likely to become larger customers of Vietnam in 2013.
After loosing the American market, Vietnamese businesses have returned in the segment of high grade rice. They are also entering new markets like China in this segment.
Mr. Phong said that with the export of 7.5 million tons of rice, the rice reserve for 2013 will not be much--only about 800,000 tons.
As a result, the Vietnam Food Association advised farmers in the Mekong Delta to begin sowing the winter-spring rice crop as soon as possible so that they can harvest it by February. They should focus on high quality rice because the price of Vietnam's low quality rice will not be able to compete with that of India and Myanmar.