Vietnam always welcomes US investors to do business effectively in the country for mutual benefit, State President Nguyen Minh Triet said.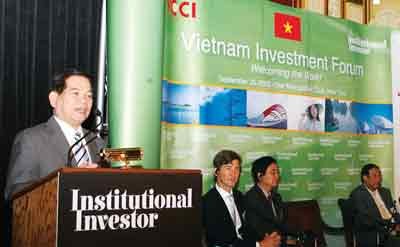 The President delivered message at a Vietnam Investment Forum in New York on Sept. 25
The President delivered this strong message at a Vietnam Investment Forum which was jointly held by the Vietnam Chamber of Commerce and Industry (VCCI) and the Institutional Investor Magazine in New York on Sept. 25.
Deputy Prime Minister and Foreign Minister Pham Gia Khiem, Minister of Labour, War Invalids and Social Affairs Nguyen Thi Kim Ngan, Minister of Agriculture and Rural Development Cao Duc Phat and representatives from 200 Vietnamese and US enterprises attended the event.
President Triet said Vietnam's success in curbing the economic declining trend has been partly thanked to the contribution made by foreign enterprises, including those from the US .
He underlined a fact that the US is the largest investor in Vietnam this year, with a total registered investment capital of about US$4 billion .
While calling upon US businesses to invest in the country, President Triet made clear that Vietnam is a market economy with a population of over 80 million and an abundant labour force.
The country records a high GDP growth, political stability and social order, he said, adding that it has also integrated into the international economy and is working to transform its mechanisms and policies in line with its pledged roadmap.
Besides, the Vietnamese people are friendly, kind-hearted and hospitable and always want to cooperate with friends worldwide.
President Triet expressed his belief that the cooperation between Vietnam and the US in the fields of economy, trade and investment will develop further, creating opportunities for the two countries' people to get closer and understand each other better.
Institutional Investor's Chairman and General Director Gary Mueller presented an overall picture of Vietnam's economic development, noting that the nation has successfully mitigated adverse impacts of the global economic and financial crisis, and is emerging as one of the fastest growing economies in Asia .
He cited such positive signs as the recovery in the country's industrial production, flow of foreign direct investment as well as tourism and credit-banking growth.
Mueller said the Asian Development Bank (ADB) already revised up forecast for Vietnam's GDP growth to 4.7 percent this year. With these statistics, Vietnam continues to be an attractive destination for foreign investors, he added.