The Ministry of Agriculture and Rural Development on November 28 sent a document to the Prime Minister asking permission for extension of a pilot project to export puffer fish (ca noc).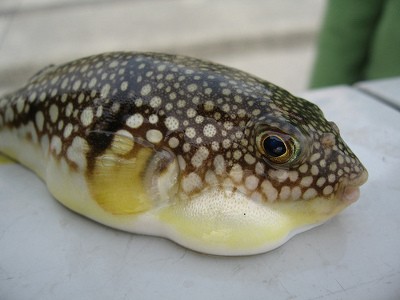 Puffer fish
The increasing demand for Vietnamese puffer fish in the Republic of Korea, Japan, Taiwan and mainland China is opening up great potential for Vietnam's seafood industry, said the Seafood Department of the Ministry of Agriculture and Rural Development.
After two years of implementation of the pilot project to catch, process and export puffer fish to the above countries, the participating provinces like Khanh Hoa and Phu Yen in the central region and Kien Giang in the Mekong Delta, have reached a deal with South Korea to export more than 70 tons of puffer fish.
Fishery experts said the shipment is expected to open up a new prospect for the country's seafood exports.
Vietnam has around 40 species of puffer fish with estimated stocks of 37,287 tons and the annual puffer fish output from the Mekong Delta province of Kien Giang alone is between 6,000-10,000 tons.
Currently, demand for puffer fish is very huge in South Korea, resulting in the ministry's request to extend the pilot project until 2015. In addition, the ministry has asked the southern province of Ba Ria-Vung Tau to join in the project.
Future targets for each province entail that they buy around 500-1,200 tons of puffer fish and export 200-500 tons of finished product to South Korea.