The Petrochemical and Bio Fuel Joint Stock Company plans to begin selling 5 percent ethanol blended gasoline in August after the Ministry of Industry and Trade approves its sale in Vietnam.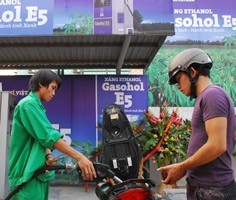 E5 ethanol blended petrol was sold on a trial basis in Hanoi last year. The Government is set to approve its commercial use in August after which the new fuel will hit the market. (Photo: Lao Dong)
PVB, as the company is known, sold the fuel on a trial basis in Hanoi last year, and ministry officials held a meeting July 30 to discuss its quality and efficiency.
It is expected that the ministry will pass regulations on 5 percent ethanol in August after which PVB, if its product meets the standards, will be allowed to distribute it.
During its trial, the ethanol mix retailed at VND500 less than A92 petrol.
At the meeting, Deputy Minister Do Huu Hao said the new fuel would help conserve fossil fuels and consume cassava, maize, and sugarcane grown by farmers.
Ethanol blended petrol is used in many countries like Canada, China, and Thailand with Brazil being the global leader.