Although exports of aqua-products faced many difficulties in 2011, export revenues touched US $6.1 billion, ranking Vietnam at fourth place in aqua-exports.
In 2012, the country's turnover of aqua-exports is expected to reach $6.5 billion, a target set by the Ministry of Agriculture and Rural Development and Vietnam Association of Seafood Exporters and Producers.
Early start in Lunar New Year
The Department of Agriculture and Rural Development in Ca Mau Province said that since January 26 (fourth day of Lunar New Year), many shrimp processing and export enterprises have resumed operations so as to complete pending export orders.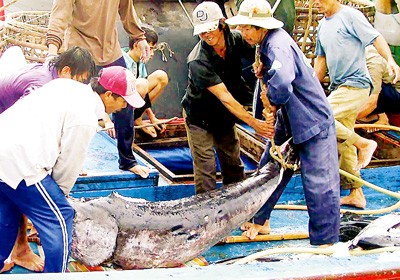 Fishermen transporting blue fin tuna at Tuy Hoa fishing port in Phu Yen Province (Photo:SGGP)
Ca Mau Province presently leads the country in shrimp exports and is likely to increase its export production this year.
Shrimp exports in the province reached a record high of $910 million last year and the target in 2012 is expected to reach $1 billion, said a representative of the Department of Agriculture and Rural Development.
According to Chau Cong Bang, deputy director of the Department of Agriculture and Rural Development in the province, there are many positive signs for the export of shrimp products in 2012. Many processing units have been upgrading their technology for this purpose.
In addition, the province will develop larger shrimp cultivation areas using advanced technology, curb diseases, maintain hygiene and safety standards for making shrimp-feed, and upgrade breeding   environment.
On January 28 (sixth day of Lunar New Year), Go Dang Seafood Joint Stock Company re-opened again after the Tet holiday break.
Nguyen Van Dao, director of the company said they were working hard to deliver their aqua products to customers in the European countries.
Dong Thap Province, which has played a key role in exporting tra fish (pangasius), raked in $332 million from exports of tra products, $2 million more than the goal set for the entire year, said Pham Thien Nghia, director of the Department of Industry and Trade.
Export value of tra fish is expected to hit $390 million in 2011.
In Tien Giang Province, tra fish earned $592 million, 2 percent more than the yearly target.

Worry over aqua-exports
Tran Thien Hai, chairman of VASEP said that fluctuation in world economy will continue affecting the country's exporters. However, with aqua- exports touching $6.1 billion in 2011, the country has a proud record, he added.
To reach their goal of $6.5 billion in aqua-exports, enterprises needed strict implementation of Vietnam's Good Agricultural Practices (Viet Gap) to meet requirements in food safety and hygiene, product origin, environment protection and bio-diversity.
In addition, the aqua-export industry must overcome challenges such as lack of raw material for processing while promoting product quality, food hygiene and safety, competitiveness and the development of the export market, the association said.
Processing units currently face a serious lack of raw material, forcing them to spend $500 million on imports to meet demand, the association added.
To solve the problem, the industry plans better management of   aquaculture in terms of food quality and hygiene along with the application of modern technology to increase the capacity and quality of raw materials, reduce costs and develop value added export products.
Beside its traditional markets like the US, Japan and the EU, aqua product exporters will penetrate other high potential countries like Korea and China.
Exporters are encouraged to work closely with farmers to develop and expand farming areas to have adequate input material for processing and exporting.
The fisheries industry targets an export turnover of $10 billion by 2020, transforming the country into one of the largest seafood exporters in the world, according to VASEP.