The recent lifting of the European Union (EU) anti-dumping tariff on Vietnamese leather-capped shoes from April 1 will certainly boost the Vietnamese shoe export industry while exposing it to strong competition and challenges.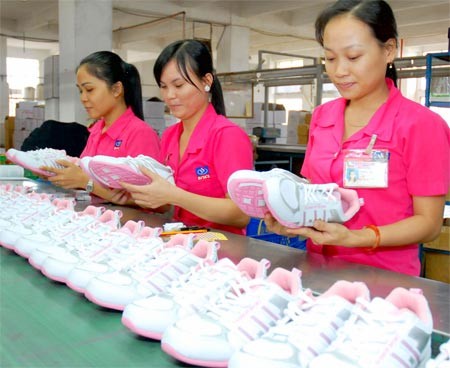 Workers make shoes for export at a company in Vietnam (Photo: SGGP)
The EU remains Vietnam's biggest shoe export market, holding 50 percent of the sector's export market share.
 
Though the country's shoe exports posted high growth in the past years, it has yet to meet set targets.
 
Some of the main reasons stunting the sector's growth were the EU anti-dumping duties levied on the Vietnamese leather-capped shoes since October 2006 and the removal of the product from the list of Generalized System of Preferences (GSP) in early 2009.
 
According to the Vietnam Leather and Footwear Association (LEFASO), before the European Commission slapped the anti-dumping duties on the Vietnamese leather-capped shoes, 60-80 percent of its footwear production was exported to the EU.
 
Few years after the anti-dumping duties were imposed, only 50 percent was exported to EU countries.
 
Footwear export revenues amounted to only US$5.09 billion in 2010, while the target had been set at US$5.3 billion.
 
With the removal of the anti-dumping levy, leather shoe exports are expected to reach their set target of US$5.5 billion in 2011, up by 10.3 percent from 2010.
 
Vietnamese shoemakers can now compete with their counterparts in India, Indonesia, Bangladesh, Sri Lanka, Pakistan and Cambodia.
According to the Ministry of Industry and Trade, the lifting of the anti-dumping duties would open the huge 27-nation market for Vietnamese exporters.
 
Challenges ahead
In 2009, Vietnamese shoemakers expected the European Commission (EC) to remove its anti-dumping taxes. Then in January 2010, an EC decision to extend anti-dumping measures imposed on leather-capped shoes was implemented.
 
With this decision, Vietnamese shoemakers were landed with a 10-percent tax rate for a further 15-month period along with Chinese shoemakers who were also levied a tariff of 16.5 percent.
The lifting of the anti-dumping tariff on leather-capped shoes produced in Vietnam and China is good news for Vietnamese shoe exporters, as they are no longer burdened with a 10-percent tax.
 
However, they will face fierce competition from Chinese shoe exporters who no longer suffer the 16.5 percent tariff.
Footwear made in Vietnam has already faced increasing competition in prices from Chinese products. China now is the biggest exporter of footwear to the EU, followed by Vietnam and India.
Though the anti-dumping taxes no longer apply from April 1, the EC will continue to monitor for one year all imports of Vietnamese and Chinese leather footwear to the EU.
The EU will again impose an anti-dumping tariff on Vietnamese shoes if they see a surge in the export volume. This will put the country's shoe industry under pressure to regulate exports.
Vietnamese producers will have to manage their export growth to the EU while not allowing their selling price to fall lower than those offered by other producers in EU countries.
Diep Thanh Kiet, vice chairman of lefaso, said in the current scenario of high inflation and hikes in production costs, lowering shoe prices is impossible.
Companies working at lower labor costs and lower product prices are increasingly moving their production and orders to Vietnam and neighboring countries from China.
The Ministry of Industry and Trade and the footwear industry needs to take measures to control products exported from Vietnam, since many products from neighboring countries have been exported through seaports in Vietnam.
Chinese shoemakers will also suffer the EC's monitoring for one year, so they might shift their risk on to other countries.
Vietnamese producers must remain prudent when receiving outsourcing orders for leather-capped shoes.