Vietnam has the opportunity to double its exports to the US because the US trade balance has increased and the economy is gradually recovering, said US former trade representative Susan Schwab.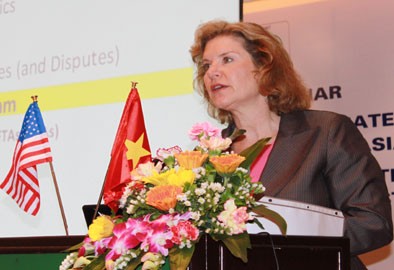 Ms. Susan Schwab delivers speech at the worshop held in Hanoi on Dec. 1, 2009. (Photo: VietNamNet)
She was speaking at a workshop on measures for Vietnamese goods to effectively enter the US market, held by Vietnamese businesses and the National University of Economics on December 1in Hanoi.
Ms. Schwab said that Vietnamese goods make up 1.15 percent of imported goods into the US and while this is adequate, Vietnam is capable of substantially increasing exports to the world's largest economy.
The two countries need to improve basic differences in bilateral trade relations including anti-dumping measures, subsidies, nonmarket economy matters, and control over garment exports and catfish, she said.
Vietnam has successfully implemented World Trade Organization (WTO) member duties and has experience in ensuring its products are compatible with international standards, Ms. Schwab said.
However, in order to speed up Vietnamese products entering the US, the Vietnamese Government should work to prevent dumping and subsidies and resolve trade debates through the WTO, she advised.
Vietnamese exporters should also focus on hygiene and food safety because US consumers are fastidious about such issues, Ms. Schwab said.
The US has imposed strong sanctions on several Chinese foods that do not guarantee health safety, she added.
Total US-Vietnam turnover reached US$12 billion last year. But Vietnamese goods often face trade barriers that the US uses to protect its businesses under anti-dumping laws.
Meanwhile, Vietnamese businesses say they can provide goods at cheaper prices than US businesses because of the low cost of production, which should not be considered dumping.