Vietnam's shrimp exports are expected to reach US$3 billion in 2014 as supply is forecast to decline due to EMS disease, causing global shrimp price to hike while demand for white-leg shrimp increases, according to the Vietnam Association of Seafood Exporters and Producers.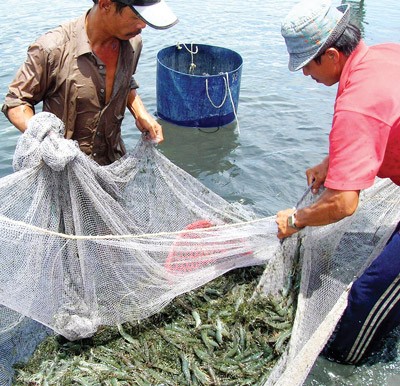 White-leg shrimp farming in Quang Nam Province. (Photo: SGGP)
Currently, the country's total shrimp farming area was estimated at 666,000 hectares in 2013, an increase of 1.6 percent against the previous year. Especially, the white-leg shrimp farming area was expanded rapidly from 42,000 hectares to 66,000 hectares with production raising from 186,000 tons to 273,000 tons.
Last year, shrimp production was estimated at 541,000 tons. By the end of November 2013, white-leg shrimp exports touched $1.4 billion, up 107 percent compared to the same period last year, accounting for 50 percent of total shrimp exports while common tiger prawn exports exceeded $1.2 billion.