The United State's Customs has recently reported that Vietnam's market share of textiles and garments in the US has increased from 3.4 percent to 4.47 percent since the same time last year.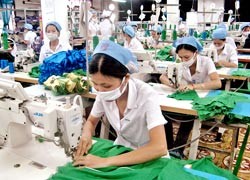 The garment and textile sector employs around two million people, of whom 80 percent are famale, many are migrants from the poor rural provinces.
Vietnam is one of four countries that has exported textiles and garments and seen positive growth in 2009.
The industry is showing positive signs of growth for the upcoming fall and winter seasons.
Vietnam will also increase clothing exports to Japan, Korea, ASEAN countries and the EU, with exports to the EU having risen in the second quarter.
The US is Vietnam's largest single export market for garments and textiles, accounting for approximately 54 per cent of Vietnam's garment exports in 2008.
The markets are different. US buyers often require large orders (over 100,000 pieces per order). EU buyers are looking for small or medium orders (thousands to ten thousands of pieces per order).
The majority of textile and garment exports are destined for the US, followed by the EU and Japan.
In the EU market, Vietnam faces increased competition from Eastern Europe, which, although wages are higher than in Asian countries, have no import taxes within the EU, has strong design capabilities, allows for fast delivery and has much lower transportation costs.
The US was the toughest in terms of applying quotas and anti-dumping tariffs to exporters, and implemented a monitoring system when quotas were abolished. The economic recession in the US may result in slowing the growth of exports to the US, which could have negative consequences on Vietnam's total exports this year.
Vietnam is one of the top ten garment exporters in the world, with exports expected to top US$9.5 billion this year, with exports to the US expected to be over $5 billion.