Low water levels of reservoirs, lack of capital and surging consumption in big cities will prompt significant power shortages in the 2011 dry season, according to the state power utility.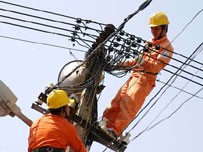 EVN warns the country will face a power shortfall in dry season this year(Photo:thanhniennews)
Electricity of Vietnam, known as EVN, estimated a serious water shortage of 12 billion cubic meters in hydropower plant reservoirs may cause a 3 billion kWh shortfall in 2011.
"Comparing to the common level, the water level of Dong Nai River is 6 meters lower, Yaly Hydropower Plant's reservoirs is 20 meters lower and Hoa Binh Plant's reservoir 17 meters," said the power distributor general director Pham Le Thanh.
"Therefore, if thermal plants have problems, we will face a significant power shortage this year."
The Hoa Binh Hydropower Plant, is expected to see its reservoir dry out by March, Thanh Nien Newspaper quoted Nguyen Phuc Vinh, general director of the Northern Power Corporation, an EVN subsidiary, as saying.
 
Though the plant is considered the largest of its kind in Vietnam, Vinh said he did not expect the situation to be much better, elsewhere.
Most provinces in the south consumed a huge amount of power last year, Nguyen Thanh Duy, general director of the EVN Southern Power Corporation, said, expecting the consumption will keep increasing sharply this year.
"Ho Chi Minh City consumes the largest amount of power nationwide. Thus the city's power distributor often has to cope with power shortages in dry season every year," Duy said.
The southern power supplier expects the 2011 output will jump to nearly 2,900 MW, a year-on-year increase of 14 percent.
EVN will have to buy power from other producers to meet up with the domestic consumption this year, said the sole power utility's Thanh.
Seeking financial supports
The national power distributor asked for an additional VND15-trillion (US$771 million) loan from the Vietnam Social Insurance Fund to further expand Vietnam's electrical output.
In addition, it sought a government guarantee before issuing overseas bonds worth $1 billion. EVN officials hope that the bonds will generate more funds for power projects.
EVN is also seeking VND13 trillion ($668 million) in government loans to feed its oil-fueled thermal plants in anticipation of significant power shortages.
The loans should help generate about 3.8 billion kilowatt-hours (kWh) during the six-month dry season, officials from the nation's sole power distributor said at a recent meeting in Hanoi.
EVN proposed the State Bank of Vietnam to allow the power utility to borrow more than 15 percent of commercial lenders' total capital.
The country's sole power supplier and other power producers expect to generate nearly 4,000 MW in 2011 and build five new hydropower plants with the total output of more than 3,800 MW.
Dao Van Hung said EVN incurred a loss of VND8 trillion ($411 million), last year, due to the fact that the utility had to buy power at high prices from fuel-run plants to ease shortfalls during the dry season.
Responding to EVN officials' proposal to hike power prices at the meeting, Vu Huy Hoang, minister of Industry and Trade, said his agency would submit new prices to the government soon.