The number of 100 percent state capital enterprises will reduce to 190 ones in the phase of 2016-2020, said Mr. Nguyen Trong Dung, deputy head of the Central Steering Board for Enterprise Reform and Development on October 25.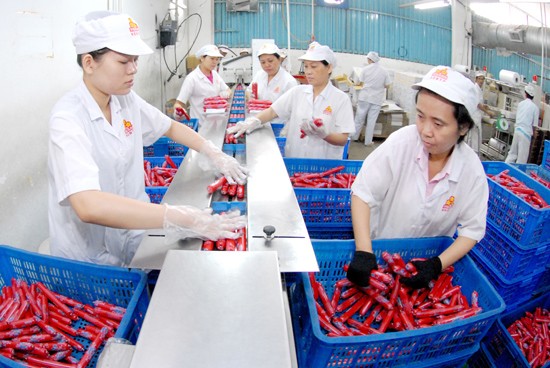 Sausage production at Vissan, a state owned enterprise under Saigon Trading Corporation (Photo: SGGP)
As of October 1 this year, the country has 718 enterprises which the state holds 100 percent chartered capital, he said.
At a conference on state capital withdrawal and stock market listing hosted by HCMC Stock Exchange (Hose), Mr. Dung said that the Government has determined state enterprise equitization to be one of significant measures and key missions of economic restructuring.
According to plan in the phase of 2016-2020, operating fields of state owned enterprises will reduce from 19 as present to 12 covering public postal service, lottery trade, money printing, gold bullion making and air traffic service.
The 190 enterprises will comprise 63 lottery companies, 12 publishing and 87 irrigation exploitation firms.
Enterprises that have been equitized but the state still holds 65 percent chartered capital will drop to four operating in five fields.
Vietnam has implemented equitization for 24 years and created strong boosts for the development of businesses and the economy.
Mr. Dung said that there are two types of state capital withdrawal now. The first type is to divest from non-core fields by economic groups and state corporations in fields securities, banking and real estate. The second type is to continue selling state shares at equitized enterprises.