Vietnam's state-run oil and gas giant PetroVietnam would take part in any trans-Asian gas pipeline grid to help ensure national energy security, a company official said Monday.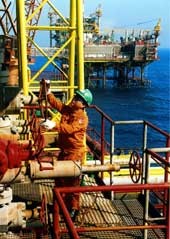 A PetroVietnam oil-drilling platform in Bach Ho (White Tiger) oil field offshore Ba Ria-Vung Tau province.
"Vietnam will certainly participate," said Do Khang Ninh, chairman of the Management Board of PV Gas, a subsidiary of PetroVietnam. But he added that such a project was in very its early stages and without a timeframe.
In an earlier interview with the Lao Dong (Labour) newspaper, Mr. Ninh said Vietnam would have to import up to five billion cubic metres of gas each year from 2012 to meet rising domestic demand.
Vietnam is rich in oil and gas reserves, but its needs for major types of fuel increase by 10 to 15 percent a year, PetroVietnam said.
Several proposals for a "Trans-ASEAN Gas Pipeline" have been discussed for over a decade by the 10-member Association of Southeast Asian Nations.
The Asia Pacific Economic Cooperation (APEC) forum has also long talked about an Asian Gas Grid that would use offshore pipelines to connect Southeast Asia with East Asian countries including China and Taiwan.
Only a few gas pipelines exist in the region, including connections that feed gas from Malaysia and Indonesia to Singapore, and from Myanmar to Thailand.