Japan External Trade Organization (Jetro) hosted a talk between Japanese enterprises and Vietnamese agencies about export import problems and food safety and hygiene standards yesterday, when agency representatives directly responded to some mentions by the enterprises and said that relevant ministries would immediately inspect and remedy other problems in HCMC.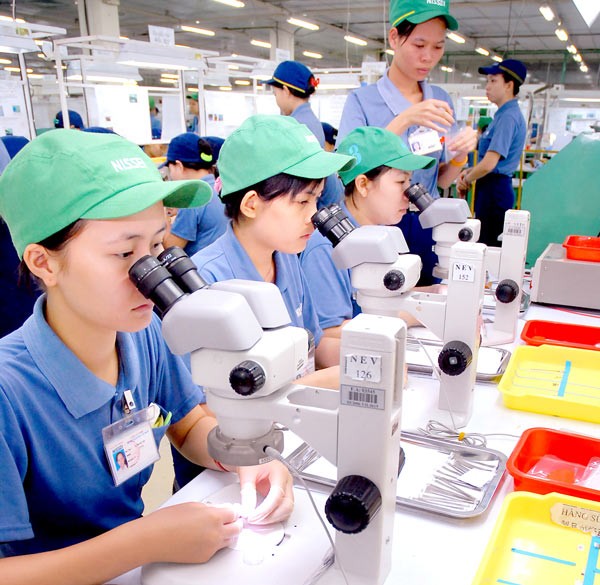 Workers at Japanese Nissei Electric Company, Linh Trung Export Processing Zone, HCMC (Illustrative photo: SGGP)
According to Mr. Motohisa Nakagawa, head of Business Environment Committee Board under the Japanese Business Association of HCMC, food samples imported into Vietnam for development study purposes must experience official inspection procedures if volume exceeds five kilograms as per current regulations. That has increased commercial costs and slowed customs clearance of businesses.
Local agencies' certification of food safety knowledge of sales personnel at distribution systems has been longer than the regulation of 10 days.
In addition, regulations on shelve system and goods display at convenient stores and modern distribution systems have caused waste and trading cost raise for businesses. Especially, the use of pesticides with high toxicity at many farms in Lam Dong province has indirectly affected food quality and safety standards of farms invested by Japanese firms, he added.
A representative of Vietnam Customs answered that the customs sector has no regulation on sample volume inspection and now proposes to repair Government Decree 38/2012 in order not to tighten sample volume because each type of goods need a different sample volume.
The Ministry of Health's representative said that sample inspection could not base on quantity to prevent from the equitation of all types of goods in inspection. Five kilograms of material can create only some products but five kilograms of aromatic spices can produce a lot of products.
The representative advised businesses to prove that their import consignment is for testing and commit not to consuming or circulating in the market.
Relevant ministries will inspect other problems reported by Japanese firms at the event and remedy shortcomings in law enforcement.