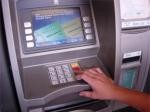 ATM of Vietcombank
Ha Noi police recently arrested a Vietnamese named Nguyen Anh Tuan for using fake international credit cards to withdraw money from local Vietcombank's ATMs.
Tuan admitted that since October he had made hundreds of successful withdraws worth VND800 million (US$50,300) from ATMs operated by Vietcombank, one of the country's four leading State-owned commercial banks.
Tuan said at first he bought a magnetic card writer and unused cards from abroad. Then, he launched a website which disguised an intermediary for some major foreign banks to secure the identities of card holders
Next, Tuan sent emails to cardholders in the US and UK and deceived them into divulging personal, financial, or account information.
Searching Tuan's rented apartment, the police seized only 25 fake cards but Tuan said he had made 30.
Also, a laptop, a magnetic card, some ATM withdrawal receipts and VND96 million ($6,040) in cash were found in his apartment.
Connected with the ATM network at Vietcombank are many local and foreign banks including Chohong Vina Bank, Habubank, Eximbank Vietnam, Techcombank, Phuong Nam Bank, Military bank and ANZ.
International credit card holders can withdraw cash from the banks' ATMs if the card issuers have connection agreements with Vietnamese banks.
Some banks told reporters that they would not be blamed for damages caused by fake credit cards as transactions using the cards are "legal."
According to the banks, credit cards are merely cards that provide the automatic system users' information so that if the information is correct, computers will proceed with the transaction
The police have now transferred the case of Nguyen Anh Tuan to the Ministry of Public Security for further investigation.
Once again, the case aroused many concerns among card users about the security of banking industry.
Some debit cardholders recently claimed that their money was stolen from their accounts by means of ATM withdrawals.
But, all of their lawsuits against the banks failed or were discarded by the courts though they mentioned the possibility of fake cards.