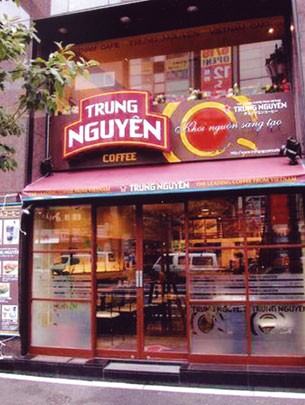 Trung Nguyen Coffee -one of the most famous trade marks in Viet Nam (Photo: Tuoi Tre)
The Madrid Agreement relating to international registration of trade marks (the Madrid Protocol) will come into effect in the country as of July 11. This is a good chance for Vietnamese businesses to protect their trade marks.
To register trademarks in member countries of the Madrid Protocol, owners must send only one application to the World Intellectual Property Organisation (WIPO) through the Department of Intellectual Property (DIP) of the Vietnamese Ministry of Science and Technology.
The accession to the Madrid Protocol will help businesses lessen costs for registration, which are rather high in large markets such as the US, costing 1,500-2000 USD, or Japan, at 2,000-2,500 USD.
Joining the Madrid system, an application for registration only costs 1,500 USD, gives protection of trade marks in 46 member countries, including potential markets such as the European Union countries, the UK, the US, Japan, Singapore and the Republic of Korea.
The time for the registration procedure has also been halved to 1-2 years.
The Director of the EC-ASEAN Intellectual Property Rights Cooperation Programme (ECAP II), Niclas Morey, said Viet Nam's need in intellectual property (IP) field is large and the accession to the Protocol would make it easier for trademark owners in the country to seek for protection and diminish risks of trademark loss.
He also said that by improving IP protection, investment and trade for both foreign and local businesses would be boosted.
Viet Nam is now reserved to receive 1.5 million euro to modernise its IP system from the ECAP II programme.
According to the DIP, Viet Nam has about 115,000 trademarks registered domestically and over 1,000 trademarks registered in foreign countries.
However, many Vietnamese businesses had recently to cope with the fact that their trademarks were usurped and have had to spend a lot of time and money to remake them. Typical cases were Vinataba tobacco trademark arrogated in 12 countries, Sa Giang prawn cracker stolen in France and Trung Nguyen coffee in the US.
Source: VNA